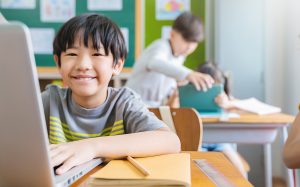 Summer vacation has come and gone, and so much is to be done before the school year begins! In the chaos of it all, it's easy to let staying healthy slip through the cracks. However, for your child to get the most out of their education, they need to feel their best. Here are some healthy back-to-school tips for your family.
Healthy Back-to-School Tips
Preparation is critical for a healthy return to the new school year. Both you and your child should feel refreshed and stress-free once the first day of school arrives. At HealthPark Pediatrics, the health of your family is our top priority. These are the six healthy back-to-school tips we recommend to set your child up for success:
1. Check in with your pediatrician
The best way to ensure the health of your child before school begins is to take them to see their pediatrician. Checking in with a pediatrician during this time lets you address any potential concerns before your schedule gets busier. Have your child take a yearly eye exam to ensure they can read and write to their best ability. Or if your child plans to play sports, now is a great time to get a school sports physical out of the way. Also, many schools have mandatory vaccines or other health records the students are required to have.
2. Start your school routine early
Falling back into a routine is one of the more challenging adjustments for you and your child when returning to school. About a week or two before the school year begins, start sending them to bed earlier and even waking them at an earlier hour if they've gotten used to sleeping in on summer mornings. Having their minds and bodies adjusted to the new schedule before the first day will allow your child to focus more on their education rather than their lack of sleep.
3. Pack healthy lunches
When packing your kid's lunch, make an effort to keep it healthy and steer clear of junk foods. While they may be fun and a sweet treat every so often, junk foods full of sugar can make their energy levels fluctuate throughout the day. Pack a protein-filled lunch with healthy carbs, such as fruits and veggies. If you're searching for new snacks to include, focus on brain foods like greek yogurt or nuts and seed packs. 
4. Eat a nutritious breakfast
Success starts in the morning, and with that comes a nutritious breakfast! As cliche as it sounds, breakfast really is the most important meal of the day. Avoid sugary cereals or processed breakfast foods. Instead, try to cook eggs or oatmeal, or if you're in a rush, there are still healthy options like fruit or yogurt. Whatever you choose, make sure it's something full of energy and nutrients to keep their minds alert and stomachs full until lunchtime. 
5. Stay active
Eating nutritious food and staying active go hand-in-hand when working to stay healthy. Physical fitness is an essential part of health and well-being for any age. They may have gym class to get out some energy, but if not, suggest family fun activities to get your children moving.
6. Set a bedtime 
Sleep is a crucial part of healthy growth for children. All children are recommended at least eight hours of sleep to give their bodies amble time to rest and recover. As parents, make sure you set a bedtime that allows them to get their eight hours of sleep. They'll wake up feeling energized, and well-rested to take on their school day!
Get in Touch With a Pediatrician
HealthPark Pediatrics works to provide comprehensive, individualized care to all of our patients. We offer a variety of pediatric services to keep your child happy and healthy, including back-to-school checklists. Call our Raleigh, NC office at (919) 896-7076 to make an appointment.