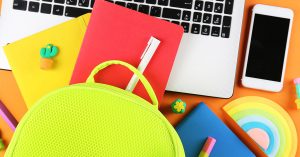 With the ongoing coronavirus pandemic, the school year is probably going to look a lot different this year than it has in the past. However, there are some things you can do for back to school prep that will help you get ready for any scenario.
Back to School Prep Checklist
1. Know Your State & School District's Action Plan
Make sure you stay up to date on your state and school district's plan for the new school year. Many schools are planning on staggering students, alternating groups that come into the school, and doing part-time distance learning. Keep tabs on what those plans mean for you and your family. And be prepared for the plan to change, possibly more than once.
2. Make Sure Kids Know Safety Guidelines
If your child is returning to school for in-person learning, make sure they know the safety guidelines they need to follow to prevent the spread of COVID-19. This includes guidelines for social distancing, wearing masks, washing hands, and more. 
3. Check-In With The Pediatrician
Before your child returns to school, talk to their pediatrician to make sure they are up to date with their:
Yearly eye exams
School sports physicals
4. Pick Up Supplies
Make sure your child has everything they need to succeed in the upcoming year. Your child's school and/or teacher will probably provide you with a list of things they need to bring. This can be a parent's least favorite part of back to school prep, but you don't have to go overboard or spend a ton of money. Some things you'll want to make sure your kids have (depending on their supply list):
Pencils, pens, markers, crayons, etc.
Notebooks, folders & binders
Classroom supplies (tissues, paper towels, hand sanitizer, etc)
The right size backpack
5. Start the School Routine Early
As part of back to school prep, you should get kids back into the swing of the school routine several weeks before school actually starts. If you didn't keep their standard bedtime during the summer, it's time to start enforcing it again. Same thing with when they get up. This way they'll be primed for a more formal schedule and the transition out of summer will be smoother.
6. Set Up a Study Spot
During the school year, it's good for your child to have a designated study area. This will be especially valuable if remote learning is necessary. It should be somewhere with a good work surface that can accommodate books and computers. Make sure it is quiet so they can concentrate and well lit so they can read and write without straining their eyes.
7. Make a List of Meal Ideas
Since schedules become a little more rigid during the school year, a good idea for back to school prep is meal planning. Make a list of ideas for lunches that are nutritious and easy to pack. It's also helpful to make a list of meals you can put in the dinner rotation.
8. Be Prepared to Go Virtual
Even if your child's school is planning to open for in-person learning, be prepared for that to possibly change. Depending on how things go, virtual learning may become a bigger part of the school year than first anticipated. So just prepare yourself for that possibility and try to have contingency plans for this. Make sure you have the necessary technology and see if you can devise a schedule that works with your own commitments for work.
Talk To A Pediatrician
If you have additional questions about preparing your child to go back to school, call (919) 896-7066 to talk to a team member about making an appointment.
At HealthPark Pediatrics, the health and safety of our staff and patients is our top concern. We are taking steps to ensure that you and your child will be safe while visiting our office. This includes using a separate entrance for sick visits, limiting the number of staff and physicians, observing social distancing guidelines, and offering telemedicine visits.