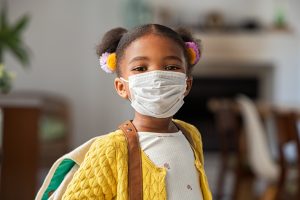 We recently published a full back-to-school guide that shared the latest in CDC guidance for COVID-19 prevention in schools. As we know, things are ever-changing in this pandemic. One thing that will always remain the same is our dedication to our patients and their families. We are here to help answer any questions and ease any concerns you might have.
COVID-19 Vaccine Information
COVID vaccines are now available at our office for children 12 and up. Let us know when you schedule your child's appointment if you would like the COVID vaccine for your child. If you already have an appointment, just let us know at the time of your visit. We also have some COVID vaccine clinic appointments available!
An Open Letter to the Community
When we took our oath to practice medicine, we promised to protect our patients from harm and prevent disease where we could. We are committed to using the expertise and knowledge gained over our medical careers to help protect you from the wide-ranging and often devastating impacts of COVID-19. We are deeply concerned about the toll of COVID-19 on our community and the consequences of failing to follow basic preventive practices.
Here's what we are asking you to do:
Wear a mask when you are in public places. Masks should cover your nose and mouth.
Maintain a physical distance of at least six feet when you are near people who do not live with you.
Wash your hands frequently with soap and warm water for 20 seconds or with a hand sanitizer that contains at least 60% alcohol.
Stay home when you are sick.
Avoid large indoor gatherings, especially those where masks and social distancing are not observed.
Take care of each other and help those in the community most vulnerable to COVID-19.
These simple measures will help to reduce the spread of COVID-19, help keep our community open for business, and put us on the path to a return to normalcy.
Our community has a longstanding tradition of looking out for one another, and these times are challenging us to continue to show support, compassion, and grace. We hope you will follow this advice and do your part to keep us all healthy and safe.
Make An Appointment
At HealthPark Pediatrics we are dedicated to providing the most current, compassionate, and comprehensive medical care. If you have any questions or concerns about the ongoing COVID-19 pandemic or the COVID vaccine, we are here to help provide guidance. Give our office a call at (919) 896-7066 to talk to a team member about making an appointment.

At HealthPark Pediatrics, the health and safety of our staff and patients is our top concern. We are taking steps to ensure that you and your child will be safe while visiting our office. This includes using a separate entrance for sick visits, limiting the number of staff and physicians, observing social distancing guidelines, and offering telemedicine visits.