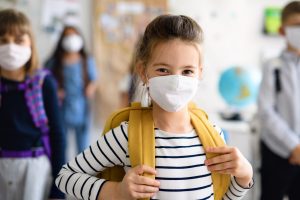 Here at HealthPark Pediatrics, your child's health and safety are our top priority. It is our commitment to our patients and their families to share the latest in CDC guidance for COVID-19 prevention in schools. As always, our pediatricians and entire office staff are dedicated to staying up to date on changes in guidelines and protocol. We are always here to be a resource for you if you have questions or concerns. 
The North Carolina Department of Health and Human Services and Wake County Public Health worked together to come up with the safest form of in-person teaching possible, with the health and safety of students and teachers top of mind.
Vaccinations
Teachers, faculty, and students aged 12 and over are eligible for COVID-19 vaccines. If your child is 12 years old or over, consult your child's pediatrician for more information regarding COVID-19 vaccines. We are here to answer any questions and ease any concerns you might have regarding the vaccine. 
Face Coverings
As of August 3, 2021, the Wake County Public School System announced that face coverings are required for all elementary, middle, and high school students when indoors and on school-provided transportation. Face coverings are optional when outdoors. If your child does not attend a school within the Wake County Public School System, we still highly encourage these same mask-wearing practices. But please refer to your child's school's COVID-19 policies for the latest information.
Masks are required for ages 5 and up, but are strongly encouraged for Pre-K students ages 3-4.
The Wake County Public School System states, "if your student cannot wear a face covering due to a medical condition or disability, you may request a face covering accommodation by submitting an Accommodation Request Form to your student's principal. The form requires medical certification, which must be completed and signed by a licensed healthcare provider." 
On our HealthPark Pediatrics blog, we have a full guide to masks and face coverings for children. The idea of masks might be a little scary to your child at first, especially for children under the age of 5, but talking to them about it and approaching it in a safe way can help them understand the importance of wearing a mask.
Sick Protocol
Students should stay home if they are feeling sick. In accordance with the WCPSS guidelines, all students should have their temperature taken every day at home before coming to school. 
Do not attend school if you are:
Diagnosed with COVID-19 within the last 10 days
Exposed to COVID-19 within the last 14 days and not fully vaccinated
Instructed to quarantine
Sick or experiencing any of these symptoms of illness
Fever or chills
Cough
Shortness of breath or difficulty breathing
Fatigue
Muscle or body aches
Headache
New loss of taste or smell
Sore throat
Congestion or runny nose
Nausea or vomiting
Diarrhea
The CDC has also updated their recommendations "for fully vaccinated people who have a known exposure to someone with suspected or confirmed COVID-19 to be tested 3-5 days after exposure, regardless of whether they have symptoms."
For More Information
As a parent, we know that your child's safety is your top priority. We suggest taking the time to teach your child about the importance of wearing a face mask, washing their hands, and practicing social distancing. At HealthPark Pediatrics, we are here to help answer any questions you might have about your child starting back to school with these guidelines in place. Parents in the Raleigh area can call us at (919) 896-7066 for assistance.
At HealthPark Pediatrics, the health and safety of our staff and patients is our top concern. We are taking steps to ensure that you and your child will be safe while visiting our office. This includes using a separate entrance for sick visits, limiting the number of staff and physicians, observing social distancing guidelines, and offering telemedicine visits.