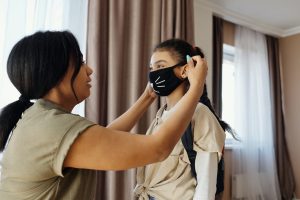 So much has changed since the COVID-19 pandemic first reached the US. We now know more than ever about coronavirus symptoms, treatment, and prevention. But no matter how much has changed, three essential steps in prevention remain. These include washing your hands for 20 seconds using soap and water or using an alcohol-based hand sanitizer with at least 60% alcohol, keeping a 6-foot distance apart from other individuals and practicing social distancing, and wearing a face mask or face covering. 
Mask ordinances differ from state to local governments, but the CDC recommends that all children over the age of 2 should wear a mask or face covering. There are understood exceptions as the "CDC recognizes that wearing masks may not be possible in every situation or for some people. Correct and consistent use of masks may be challenging for some children, such as children with certain disabilities, including cognitive, intellectual, developmental, sensory, and behavioral disorders."
Talking to Your Child About Wearing a Mask
The idea of masks might be a little scary to your child at first, especially for children under the age of 5, but talking to them about it and approaching it in a safe way can help them understand the importance of wearing a mask.
Show your child how you wear one. Explain to them that you like it and feel safe wearing a mask. Find a mask in their favorite color or let them decorate it by adding their own special touches to the outside. Try putting a mask on a doll or a stuffed animal to show your child how to wear one. And encourage your child to "practice" wearing their mask in the home to help them get comfortable in face coverings.
Mask Fit and Care Guidelines
Before putting on or taking off a mask, be sure to wash your hands and encourage your child to do the same. You and your child's masks should be fit securely over the bridge of the nose and over the mouth. It should fully cover the surface area from ear to ear and it should be held in place by ties around the head or loops around the ears. It is also recommended that you wash and dry your mask after each use.
The Johns Hopkins University School of Medicine recommends the following sizing for children's masks:
2–5 years old: 6 x 6 inch squares
5–12 years old: 7 x 7 inch squares
13–15 years old: 9 (width) x 6 (height) inches
Pleated face masks with elastic ear loops are probably the easiest fit for children's faces. As long as a mask has multiple fabric layers, homemade or store-bought masks will work just fine. For their safety, be sure to check the fit of a mask before letting your child in public.
For More Information
As a parent, we know that your child's safety is your top priority. We suggest taking the time to teach your child about the importance of wearing a face mask, washing their hands and practicing social distancing. At HealthPark Pediatrics, we are here to help answer any questions you might have about your child wearing a face covering. Parents in the Raleigh area can call us at (919) 896-7066 for assistance.
At HealthPark Pediatrics, the health and safety of our staff and patients is our top concern. We are taking steps to ensure that you and your child will be safe while visiting our office. This includes using a separate entrance for sick visits, limiting the number of staff and physicians, observing social distancing guidelines, and offering telemedicine visits. Request an appointment online.