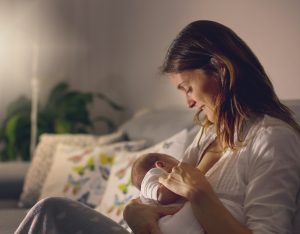 August is recognized as National Breastfeeding Month. The U.S. Breastfeeding Committee declared the month of recognition in 2011 and has shared a special theme each year to help mothers on their breastfeeding journey. 
National Breastfeeding Month 2021: Every Step of the Way
National Breastfeeding Month 2021's theme is Every Step of the Way. The U.S. Breastfeeding Committee states, "We envision a world in which every family is supported at every step along the infant feeding journey, with warm and coordinated hand-offs and transitions so that the needs of lactating families and those who support them are anticipated and met, every step of the way."
They are hosting a launch event webinar on the "Continuity of Care in Breastfeeding Support: A Blueprint for Communities" on August 24 at 1 p.m. If you are interested in the event, you can click here to learn more information and register. 
Breastfeeding and Formula
Here at HealthPark Pediatrics, it is our role to help support new mothers in any way possible. We are happy to help mothers who choose to breastfeed or who choose formula feeding. Feeding your newborn is one of the most common concerns for new parents. We get asked how often they should be fed, should they be fed breastmilk or formula, how should the baby be fed, etc. Every patient and situation is unique and the right answer is different for each family. Our team is here to help you make the choice that fits your family best.
Since breastfeeding or formula feeding can often be a decision that needs a little help, HealthPark Pediatrics has a lactation consultant on staff who can help you through the process.
Whether you need some help getting started with breastfeeding, or if you have questions about what formula is the right choice, we are here to coach you, help you, and encourage you.
Lactation Consultant
Our lactation consultant is trained to help mothers with a variety of challenges surrounding breastfeeding, including:
Latching difficulties
Painful nursing
Low milk production
Inadequate weight gain
Advice about breastfeeding equipment and supplies
Our lactation services can also help women meet their nursing goals when they are faced with special challenges such as returning to work or school.
Meet Jordan Smith RD, IBCLC
Jordan is an International Board Certified Lactation Consultant (IBCLC). After completing her undergraduate degree at North Carolina State University, she attended Meredith College where she completed the requirements to become a Registered Dietitian (RD). After becoming a Registered Dietitian (RD), she discovered she had a passion for infant nutrition. Jordan completed her IBCLC clinical and educational hours through the Mary Rose Tully Training Initiative at the UNC Gillings School of Global Public Health. She has worked as a clinical IBCLC for over 6 years at UNC Hospital in Chapel Hill, NC.
Additional Resources
Last year during National Breastfeeding Month, we collected a number of reputable resources where women can find breastfeeding support. Whether you'd prefer to work with a lactation consultant one-on-one, meet with a support group virtually, or speak to a counselor over the phone, there are many different types of support systems available to help. Here are 7 of our favorite resources for finding breastfeeding support. 
For More Information
HealthPark Pediatrics specializes in lactation services and breastfeeding coaching. No matter the question, we will be able to coach you through it. To meet with our on-site lactation consultant, request an appointment online, or call us at 919-896-7066.
At HealthPark Pediatrics, the health and safety of our staff and patients are our top concern. We are taking steps to ensure that you and your child will be safe while visiting our office. This includes using a separate entrance for sick visits, limiting the number of staff and physicians, observing social distancing guidelines, and offering telemedicine visits. Request an appointment online.