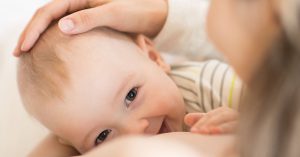 Breastfeeding is a natural bonding experience between mother and baby. Breastfeeding can be a wonderful experience, but it's not uncommon for many mothers to face challenges during the feeding process. While family and friends can be helpful, there are also resources available on both international and local levels that specifically focus on breastfeeding support and assistance.
Whether you'd prefer to work with a lactation consultant one-on-one, meet with a support group virtually, or speak to a counselor over the phone, there are many different types of support systems available to help. To bring awareness to National Breastfeeding Month, we wanted to share some of the places breastfeeding support can be found.
Office on Women's Health: If you're looking for a general resource for any breastfeeding question or just a quick tip, The U.S. Department of Health & Human Services' Office on Women's Health has tons of helpful links readily available. From FAQs to lists of curated breastfeeding tips, this website is a great place for breastfeeding support. If you are having trouble and need personalized help, they also have a toll-free helpline that operates Monday through Friday from 9:00 am to 6:00 pm. By calling the helpline you can talk directly with a trained breastfeeding counselor in either English or Spanish.
North Carolina Breastfeeding Coalition: The NCBC is a state-wide organization whose goal is "to facilitate collaborative community work through education and advocacy that creates an environment of genuine breastfeeding support for all families." On their website, you can locate local breastfeeding support groups and resources within your county, and find local breastfeeding-friendly businesses and medical offices.
La Leche League International: This international organization is a hub for breastfeeding support. Their website offers everything from newsletters to links for local support. Under the "Resources" tab, you can register for various webinars and access information about a wide variety of breastfeeding topics. La Leche League also offers support through an online Facebook group. 
Nursing Mothers of Raleigh: This group was established to provide mother-to-mother breastfeeding support. While the group originally offered in-person meetings, due to COVID-19 they have since shifted to virtual meetings. If you're not sure about meeting via video chat, they also offer free phone support to nursing mothers.
Stanford School of Medicine: Stanford Medicine is a nationally respected academic institution that also happens to be a great resource for new mothers. On the breastfeeding section of their website, there are educational videos and forms in both English and Spanish. This page also lists books, contacts, and other media for further assistance and explanation.
Academy of Breastfeeding Medicine: ABM is a worldwide organization of medical doctors dedicated to breastfeeding support. Resources on the website can connect you to the ABM's official journal, podcast, and so much more. 
HealthPark's lactation services: HealthPark Pediatrics specializes in lactation services and breastfeeding coaching. Our on-site lactation consultant can help assist mothers with a variety of nursing challenges such as latching difficulties and pain while breastfeeding. No matter the question, we will be able to coach you through it. To meet with our on-site lactation consultant, request an appointment online, or call us at 919-896-7066.