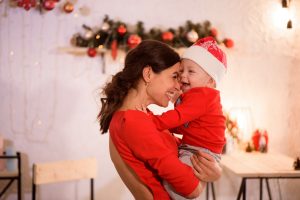 The holiday season is here! If you're a new mom, you've just received the best gift of all…a beautiful baby. But it doesn't have to end there. There are many options for holiday gifts for new moms. Throughout your pregnancy and postpartum, you've likely received a plethora of gifts for the new baby. While an endless supply of diapers, baby clothes, and other baby essentials double as a gift for parents as well, take the holidays as an opportunity to be showered with mom-only presents.
Holiday Wishlist for New Moms
In no particular order, any of the following can be used to make your life as a new mom as relaxing and enjoyable as possible. Here are our top recommendations for holiday gifts for new moms:
1. Nursing bra
If you've decided to go the route of breastfeeding your child, a nursing bra is a necessity. You may have some favorite maternity bras from pregnancy that can transition into postpartum, but there's no such thing as having too many.  Many popular athleisure and loungewear brands make nursing bras to help you say comfortable in between nursing sessions. According to Forbes, these are the most sought-after and highly recommended nursing bras. 
2. Cozy robe
With a newborn at home, it's likely that is where you'll be spending most of your time. Your routine can be exhausting, so when you have downtime, it's essential to have the coziest, comfiest accessories. Do yourself a favor by adding a luxury robe to your holiday wishlist. Make believe you've had a day at the spa or a 5-star hotel in the comfort of your own home. Check out Barefoot Dreams or Brooklinen for popular options.  
3. Kitchen appliance
Finding the time to cook is not as easy as it used to be. A new kitchen appliance can make home-cooked meals quickly and more simply for you. Depending on your favorite meals, an InstantPot, blender, or air fryer may make a great addition to navigating life as a new mom.
4. Weighted blanket
As a new parent, relaxation time should be treasured. Having a weighted blanket to cozy up with on the couch can take movie nights to a whole new level. A blanket of any kind is a popular holiday gift, but if there's ever a time to invest in a large, weighted one, now is the time.
5. Engraved jewelry
Jewelry is not a new idea for any sort of wishlist; however, customized pieces with the new baby's name or initials can be a beautiful sentimental gift. It's the perfect gift for a fashion-loving woman to celebrate their new motherhood.
6. Self-care set
While you are constantly taking care of a new child, it's easy to neglect taking care of yourself. This holiday season, add some self-care products to your wishlist. Invest in your "me-time" by adding new products to your routine. Ask for new skincare, a stretch mark balm, bath salts, makeup, candles, etc.
7. 2023 planner
Stay organized in the upcoming year with a new planner. As a new mom, your routine and schedule have completely changed. A planner is a great gift to keep track of everything in one place. It's also an opportunity to mark the date of new milestones your child experiences.
8. Motivational water bottle
With the new year around the corner, staying healthy is a resolution for many. If that is one of your upcoming goals for 2023, ask for a motivational water bottle to up your water intake. Drinking enough water has many health benefits, but it's also a necessity for breastfeeding mothers.
9. Spa gift card
No one deserves to be pampered more than a new mother. Receiving the gift of a spa treatment is the perfect holiday surprise. It's also a great way to take a break and get out of the house.
10. UberEats gift card 
Don't underestimate the convenience of having an UberEats gift card handy. Life is bound to get hectic with a new child. So for the days when you don't have the time to cook or run to the store, this gift will be a lifesaver. Gift cards of any kind that can alleviate daily stress are the perfect stocking stuffer.
Get In Touch With Us
Whether you wish for items to help adjust back to normal life or it is specific to being a mother, there's an abundance of options to choose from. Take advantage of this time to fill your wishlist with gifts for new moms. At HealthPark Pediatrics, making the transition from pregnancy to parenthood is what we're here to help with. We provide newborn care while setting parents up for success. For further information, contact us at (919) 896-7066.