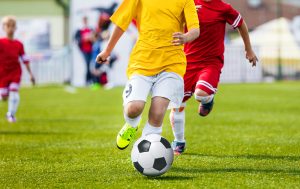 April is recognized as National Youth Sports Safety Month. This national month of sports safety recognition is in place to help raise awareness of preventable sports injuries in kids in addition to helping coaches, parents and players learn how to avoid injuries and play safely. Part of preventing sports injuries and promoting safety in youth sports is making sure your child receives a proper physical every year before starting a sports season.
Physicals
The American Academy of Pediatrics (AAP) strongly recommends that children get all physical exams, including those for sports participation, from their primary pediatric healthcare provider. Many states, schools, and organizations require physical assessments, but it's a good idea even if it isn't mandatory. Sports physicals are an important part of the preventative care your child's pediatrician provides. Learn more about sports physicals for kids and what to expect here.
Like so many things this past year, guidelines have shifted to ensure the health and safety of individuals. New American Academy of Pediatrics and American Heart Association guidelines require special clearance for any patient age 12 and up who will return to sports practice within six months of having COVID. If your child needs a physical for sports, we will inquire about their COVID history and perform the necessary screening to ensure their health and safety. If your child has already had a yearly physical, but then tested positive for COVID, we ask that they are brought in for a clearance visit prior to signing any sports forms for immediate return to sports or for upcoming seasons. When calling to schedule a physical or requesting sports forms, please provide your child's full COVID history details.
Injuries
At HealthPark Pediatrics, we believe that sports are a wonderful way for your child to exercise while learning a new skill, teamwork and discipline, while still having fun. But playing sports comes with its risks as well. Broken bones and sprains are pretty apparent, but injuries like tendinitis are a little more sneaky. Injuries like tendinitis are often caused by overexertion and are considered overuse injuries.
STOP (Sports Trauma and Overuse Prevention) Sports Injuries was created by the American Orthopaedic Society for Sports Medicine (AOSSM). STOP Sports Injuries has formulated a list of signs that are exhibited when overexerted, causing overuse injuries. 
Can't put weight on a certain body part, such as the ankle or wrist
Favor one side of the body over the other; begin limping
Have pain when using a body part
Can't sleep
Have shortness of breath/trouble breathing during activity
Have headaches during or after activity
Experience severe joint or muscle stiffness
Feel dizzy or lightheaded
Can't sit and/or climb stairs
Can't feel fingers or toes
Experience unusual weakness
Have irritated skin and/or blisters
If your child begins to experience any of these signs of overuse injuries or experiences pain during playing their sport, they should be encouraged to notify their coach or parent right away. Let them know that they should never continue to play if they are in pain.
For More Information
HealthPark Pediatrics is committed to providing comprehensive and individualized care to all of our patients. We offer a variety of pediatric services to keep your child happy and healthy, including sports physicals. Call our Raleigh, NC office at (919) 896-7076 to make an appointment.
At HealthPark Pediatrics, the health and safety of our staff and patients is our top concern. We are taking steps to ensure that you and your child will be safe while visiting our office. This includes using a separate entrance for sick visits, limiting the number of staff and physicians, observing social distancing guidelines, and offering telemedicine visits.