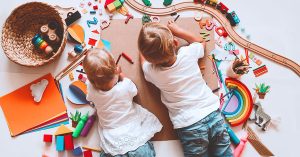 When kids are at home and done with school work, you might hear the familiar complaint "I'm bored!" While you can't be expected to keep your kids busy all day every day, you can mix things up and have some fun with these ways to entertain kids.
1. Arts and Crafts
Arts and crafts are tried-and-true when it comes to keeping kids occupied and engaged. Pick out projects that will interest your kids the most and avoid things that have too many tedious elements. Also, avoid projects that take more time than your child's attention span will allow. Try some of the following arts and crafts favorites:
Tie-dye
Sock puppets
Collage
Birdhouse building
Lanyards
Paper flowers
Bedazzling
2. Plant a Garden
Gardening is a great way to entertain kids because it gets them active outside and it's basically permission to get dirty. If you don't have space or time to plant a big garden, plant a mini one with seasonal plants using pots and planters.
3. Play Board (Not Bored) Games
This is an obvious one, but board games are excellent for killing time with kids. Plus, many board games are good for reinforcing math and reading skills. Try to mix it up and incorporate new games along with family favorites.
4. Learn Magic Tricks
Learning magic tricks is another way to entertain kids. They'll stay occupied while learning and mastering the tricks. Additionally, many easy magic tricks also have DIY elements kids need to construct. So it's like two activities in one!
5. Have a Picnic
Get back to basics and have a picnic. It doesn't have to be a big production if you don't want it to. You can even do it in the yard. Make or pick up some favorite lunch foods and pack them up. Spread out a blanket in your chosen spot, and enjoy. It may seem simple, but when you make an event out of an everyday thing, kids are entertained.
6. Go On Scavenger Hunts
Use this list of scavenger hunt ideas and pick some out that you think your kids will enjoy (and that aren't a pain for you to set up). You can have kids compete or work as a team to find items and solve clues.
7. Set Up an Obstacle Course
Gather up some sports stuff from around the house and garage and turn your yard into an obstacle course. Have kids see how they can complete the course. You can also have everyone take a turn trying to set up the trickiest course. This helps kids practice problem-solving, planning, and has the bonus of including physical activity.
8. Study the Stars
Kids are usually captivated by space and space exploration. Take advantage of the excitement around the latest space launch and let kids learn about the "final frontier." There are many books and websites like NASA's SpacePlace where you can learn about the moon, constellations, planets, and stars. Depending on the visibility where you live, you can even go out and observe the heavens firsthand. 
9. Perform Easy Science Experiments
Just because school isn't in session doesn't mean they can't learn (and have a bit of fun doing it. Try some easy science experiments to entertain kids using things you already have on hand. You may be pleasantly surprised by the different projects you can do with the things in your closets, pantry, and refrigerator.
10. Let Them Put on a Show
Entertain kids by letting them entertain you. Many kids love to show off, especially to friends and family they're familiar with. Have them put on a show that lets them show off their talents. It can include whatever interests them: singing, dancing, telling jokes, doing gymnastics. They'll be entertained preparing and performing in the show and you might get some entertainment out of the deal as well.
11. Let Them Entertain Themselves
You don't always have to entertain kids. In fact, letting them get bored may make them better at keeping themselves entertained. There are many benefits to boredom, including boosting creativity, improving motivation, and preparing them for the fact that they're not always going to have someone planning their every moment.
At HealthPark Pediatrics, the health and safety of our staff and patients is our top concern. We are taking steps to ensure that you and your child will be safe while visiting our office. This includes using a separate entrance for sick visits, limiting the number of staff and physicians, observing social distancing guidelines, and offering telemedicine visits. If you have questions or concerns, call (919) 896-7066 to talk to a team member about making an appointment.