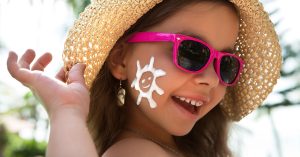 Summer certainly looks different this year. But with many popular summer attractions still closed or operating at reduced capacities, your family is likely to spend more time outside than ever. After all, it's much easier to practice social distancing outdoors. Since July is UV Safety Awareness Month, we thought it was a good time to share some sun safety tips for kids.
1. Seek Shade
Plan indoor activities to stay inside during the hottest parts of the day when the sun is the strongest. This timeframe will vary slightly depending on where you live. But generally, the sun is strongest between 10 a.m. and 4 p.m.
If staying inside during peak hours isn't possible, seek shade under a tree, an umbrella, or a pop-up tent. Use these options to prevent sunburn, not to seek relief after it's happened.
2. Cover Up
In addition to shade, protective UV clothing is a great way to protect yourself and your children from the sun's harmful rays. Look for clothing that is certified for its ultraviolet protection factor, or when possible, simply wearing long-sleeved shirts or long pants can offer protection.
Clothes made from tightly woven fabrics, like cotton, offer the best protection. Darker colors or more vibrant colors absorb more UV than lighter colors like whites and pastels. This means the UV rays are less likely to reach your skin. Keep in mind, regardless of fabric or color, a wet T-shirt offers much less UV protection than a dry one.
3. Wear a Hat
Long-sleeved shirts and long pants are great for protecting the body, but hats can provide shade for the face, scalp, ears, and neck. Your child may prefer a baseball cap, but they don't offer ear and neck protection so be sure to apply sunscreen to any exposed areas. You can also look for hats with a wide brim or neck flap, which can be especially great for young children who are often the hardest to apply sunscreen to.
4. Wear Sunglasses
Another often overlooked area that needs sun protection is the eyes. UV rays can increase the likelihood of cataracts later in life. Protect your child's eyes from UV rays with sunglasses that wrap around and block as close to 100% of both UVA and UVB rays as possible.
5. Apply Sunscreen
Okay, this one probably seems like a no brainer, but it wouldn't be an article about sun safety without mention of sunscreen. Sunscreen is important to help us all avoid sun damage and burns, but protection from the sun's rays is even more important for children.
Most sun damage occurs early in life so it's critical to avoid sunburn in children in order to prevent skin cancer in the future.
A good sunscreen should protect your child from the sun but be gentle on their skin. But with so many choices for sunscreens, how do you choose the best one for your family?
First of all, look for the words "broad spectrum" and "water-resistant" on the packaging, and go for an SPF of at least 30. Apply sunscreen 30 minutes prior to sun exposure, and reapply every 2 hours or after swimming.
Since kids can be wiggly or uncooperative, you might consider using a "stick" sunscreen to make application easier for noses or faces. Don't forget the neck, ears, tops of feet, and even the scalp.
Natural, mineral-based sunscreens containing zinc oxide or titanium dioxide tend to be less irritating to the skin than chemical-based sunscreens. So that might be the best option, especially for children with sensitive skin or eczema. This option provides a physical barrier against UVA and UVB rays and may put parents' minds at ease since they are not absorbed into the skin in the same way that chemical sunscreens are.
There have been a few studies recently that show chemicals in chemical-based sunscreen may be absorbed into the bloodstream. The FDA maintains that these chemicals are safe in small amounts, you may prefer to err on the side of caution and use a mineral-based physical sunscreen instead.
As a bonus, mineral sunscreens are also more eco-friendly and do not harm the barrier reefs and other ocean life. So it may be a better choice for that reason, too.
Of course, any sunscreen is better than none at all. So it's definitely not a good idea to skip it just because you don't have your preferred brand available.
Lastly, sunscreen doesn't really make it safe to stay out in the hot sun for longer than you would otherwise. It's just an extra line of defense to protect the skin. So, whether you're wearing sunscreen or not, you should limit direct sunlight exposure.
For More Information
The best sun safety tip for kids is to apply the tips above in combination with one another to offer the best protection. Unprotected skin can be damaged by the sun's UV rays in as little as 15 minutes. Yet it can take up to 12 hours for skin to show the full effect of sun exposure.
If you have additional questions about sun safety or are concerned about the severity of your child's sunburn, call (919) 896-7066 to talk to a team member about making an appointment.
At HealthPark Pediatrics, the health and safety of our staff and patients is our top concern. We are taking steps to ensure that you and your child will be safe while visiting our office. This includes using a separate entrance for sick visits, limiting the number of staff and physicians, observing social distancing guidelines, and offering telemedicine visits.