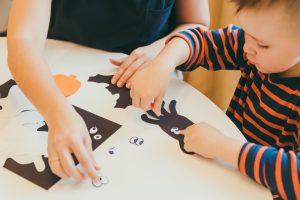 We know that so many children look forward to Halloween and the exciting traditions that surround it every year. While Halloween may look different this year during COVID-19, there's no reason your family can't find safe ways to celebrate. We've put together some alternative ideas to traditional trick-or-treating for you and your children to have fun with this year.
1. Carving or Decorating Pumpkins
Grab your masks and make a trip to your local pumpkin patch to grab an assortment of pumpkins. Grab a traditional carving pumpkin and let your child pick out a small pumpkin or two to decorate.
Switch things up and find a fun, free printable pumpkin stencil to inspire your jack-o-lantern design. Since pumpkin carving tools can be sharp, be sure to have an adult do the carving or closely supervise. Save this activity for a few days before Halloween so that your pumpkin is guaranteed to last through Halloween night!
If you have little ones, use the smaller pumpkins that they picked out and set up a decorating station for them to work at. You can include things like finger paints, different shape sponges for stamping paints, googly eyes, feathers and felt cut-outs. Once the decorated pumpkins have dried, let your child pick where they want to display their works of art. Be sure to bring them outside on Halloween so that those walking by can see!
2. Decorating the House
If you haven't gone all-out in decorating your home for Halloween in previous years, consider going big this year! Since we are all spending more time at home, this is a great chance to decorate and enjoy the decorations.
Decorate on a budget with a bulk bag of fake spiderwebs. Stretch them across corners of your hours indoors and put them on display outside. Let the kids participate by placing the plastic spiders throughout the webs.
You can also have everyone pick out outgrown or old clothes and make a scarecrow family together. Prop the scarecrows up on your porch for everyone to see. Or pick up a few witch hats and place them on lamps, kitchen chairs and other spots throughout the house for a spooky touch!
3. Get in Costume
While children normally have multiple opportunities to wear their costumes, things are a little different this year. Depending on your child's school model, they might not be able to show their costumes to their friends. Consider creating additional chances for them to dress up and enjoy their costume.
Organize a family movie night where everyone dresses up for a spooky screening! Here's a great list of Halloween movies that are family-friendly. Whip up some festive Halloween snacks and settle in with your family for the evening.
Although school Halloween parties and recreation center trunk-or-treat events might not happen this year, you can still arrange for your child to share their costumes with their friends, virtually! Get with the other parents and schedule a virtual Halloween party where your kids can dress up and show their best friends. You could even put together a snack and decorate the background where your child will be sitting to get them even more excited.
4. Halloween Scavenger Hunt
Gather your children's favorite Halloween candy and other little toys or treats to hide around the yard and house for a Halloween scavenger hunt. Let your children know how many items are hidden, play some spooky music and let the fun begin! Follow them outside or inside to help drop hints or let them know they are getting "colder" or "warmer" to the next hidden surprise.
While traditional trick-or-treating might be out, there are still ways to safely offer up goodies for children in the neighborhood. Consider putting the treats in individual baggies, spaced out on a table in front of your home, close to the curb or sidewalk. After you've made the socially-distanced rounds with your children, stay on the porch to wave at the other trick-or-treaters from a distance. We hope you and your family have a fun and safe Halloween!
Make An Appointment
Now that October is here and families have gotten in the swing of things with school routines, whether it's virtual or in-person learning and the busy holiday season is right around the corner, there's no better time to schedule your child's checkup. Give our office a call at (919) 896-7066 to talk to a team member about making an appointment.
At HealthPark Pediatrics, the health and safety of our staff and patients is our top concern. We are taking steps to ensure that you and your child will be safe while visiting our office. This includes using a separate entrance for sick visits, limiting the number of staff and physicians, observing social distancing guidelines, and offering telemedicine visits.