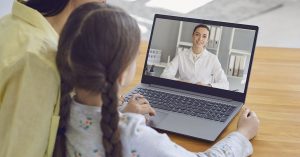 During the COVID-19 pandemic, it is important that you observe stay-at-home orders and socially distancing guidelines to keep your family healthy. However, it's also important that you do not avoid seeking medical attention when your child is sick. Luckily, a telemedicine visit is a great solution to this problem. If you don't want to visit the office but want access to quality care, take these steps for a productive telemedicine visit.
1. Prepare Your Computer, Phone, or Tablet
Make sure you have the right technology set up before your telemedicine visit. Your doctor's office may send you instructions before the visit that includes software you need to download and guidelines about the type of device you'll need. Download any necessary software and test it with the device you'll be using. Make sure your phone, tablet, or computer does not need any other software updates and turn off any notifications that may interrupt the appointment. Before your appointment is set to start, check to see that your devices are charged or plugged in.
2. Talk to Your Insurance Company About coverage For Telemedicine Visits
Many states have required insurers to cover telehealth visits during the coronavirus pandemic, but not all insurance companies cover telehealth. Or if they do, they may limit what they cover to issues related to COVID-19. To avoid unexpected charges, check with your insurance company beforehand to see what kind of coverage you have for telehealth or telemedicine. Be aware that even if your plan does cover a telemedicine visit, you may still need to pay a copay. Whether or not your insurance will cover the telehealth appointment, all of the information shared during the appointment is covered by HIPAA privacy laws.
3. Plan For Your Child's Telemedicine Visit Like A Regular Appointment
 Write down any symptoms your child is experiencing, make a list of questions you want to be answered, and have your child's medical history readily available if this is a new caregiver. If your child is sick, you need to provide as much information as possible to the doctor or other provider during their telehealth appointment. Start by making a list of all your child's symptoms and include how long the symptom has been present or any other important details. For instance, if they have or had a fever, be ready to state how long the fever has been present, what the highs and lows of the fever have been, and any medications you gave to reduce the fever. If they have a visible symptom, such as a rash, take a photo or be prepared to show it the doctor using videoconferencing.
4. Keep Medical Devices Close at Hand
If you have a thermometer, scale, or other devices to use during your child's telemedicine visit, have it close by during your telehealth appointment. It's possible your provider may request a current reading while you are talking, and you don't want to waste time retrieving these devices during the call. You can also take a reading such as a temperature right before the appointment and record it for the doctor.
5. Set The Scene
Find a quiet place to have your child's telehealth appointment. You want to be able to talk to the pediatrician without distraction. Make sure you have a secure Internet connection (wired connections are often recommended, but a strong Wi-Fi connection is fine). The area should be well-lit and allow you to have the camera in a place where you and your child can see and be seen, so you can have a direct conversation with your care provider in the same way you would at an in-person appointment.
6. Prepare to Take Notes
Remember to write down any directions or treatment plans the doctor shares. Since you won't be handed a physical prescription for your child at the end of the visit, you'll need to have a pen and paper handy to write down instructions or have access to your child's electronic medical chart, if available. Ensure that the pediatrician's office has the right pharmacy on file so you can easily pick up your child's prescriptions.
7. Give Feedback
Let the team know what went right, what could be improved, and if there are any ways the team can support your child's future telehealth visits.
At HealthPark Pediatrics, the health and safety of our staff and patients is our top concern. We are taking steps to ensure that you and your child will be visiting our office. This includes using a separate entrance for sick visits, limiting the number of staff and physicians, observing social distancing guidelines, and offering telemedicine visits. If you have questions or concerns, call (919) 896-706 to talk to a team member about making an appointment.