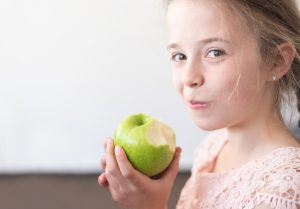 March is recognized as National Nutrition Month each year as part of an annual campaign created by the Academy of Nutrition and Dietetics. Making informed food choices, developing healthy eating habits and physical activity are the pillars of National Nutrition Month. 
Personalize Your Plate
This year's National Nutrition Month initiative is Personalize Your Plate. Because no two children are the same, each approach to nutrition and health should be tailored to the individual and family. As the Academy of Nutrition and Dietetics puts it, "we are all unique with different bodies, goals, backgrounds and tastes!"
According to the newest Dietary Guidelines for Americans released by the Academy of Nutrition and Dietetics, people of all ages, including little ones should be conscious about limiting their sugar, sodium and saturated fat intake. 
Starting Early
Building the fundamentals to a healthy lifestyle starts early in life. As a family, it's important to create a safe and healthy conversation around eating habits and physical activity. Once solids are introduced to a baby's diet, be sure they are receiving a balanced serving of healthy options. Your pediatrician can help guide you in the right direction if you have questions about this transition.
The American Heart Association suggests making it fun for kids to try new fruits and vegetables with ideas like letting them pick out a new fruit or veggie every time you go to the grocery store. You can work in the kitchen with them to prepare it in a tasty way that they are excited to eat!
Physical Activity
Physical activity is another important pillar of National Nutrition Month. Like nutrition, it's important to start developing the understanding and importance of incorporating physical activity into a child's life early on. From spending tummy time as a baby, to walking around the yard as a toddler and riding a bike and jumping rope as a child, incorporating physical activity into your child's daily routine should be easy and fun for them!
For More Information
As a parent, we know your child's health and nutrition is of the utmost importance. At HealthPark Pediatrics, we are here to be a resource. If you have questions or concerns about your child's nutrition or health, parents in the Raleigh area can call us at (919) 896-7066 for assistance.
At HealthPark Pediatrics, the health and safety of our staff and patients is our top concern. We are taking steps to ensure that you and your child will be safe while visiting our office. This includes using a separate entrance for sick visits, limiting the number of staff and physicians, observing social distancing guidelines, and offering telemedicine visits. Request an appointment online.