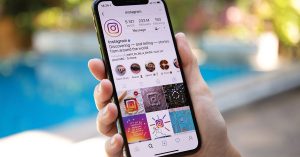 With so many Instagram celebrities and "influencers" out there, it can be difficult to figure out the right ones to follow. You don't want to spend too much time every day scrolling through the app, so we've come up with a list of 12 of the best Instagram accounts for parents to follow.
Run by writer Bunmi Laditan, this account serves up wisdom and guidance with a sharp wit. With funny takes on questions like "Why Don't Toddlers Listen?" and "Does My Toddler Hate Me?" Laditan's account is a relatable representation of the love and frustration involved in parenting.
2. @momdotcom
Parenthood is hard. But it can be a little bit easier when you know you aren't the only one trying to make things work every day. This account has videos with pearls of wisdom and advice from moms who know what they're talking about, including people struggling with infertility and considering adoption. There are also funny and inspirational quotes and lovely pictures of babies and moms. 
3. @scarymommy 
This is a favorite amongst Instagram accounts for parents. It shares memes, tweets, videos, pictures, and quotes that are a mix of sincerely touching, encouraging, and laugh-out-loud funny. With such a variety of content on the account, you'll find something there that speaks to you.
4. @lunchboxdad
If you want to try something a little more creative and fun when packing your child's lunch, check out this account. You may not want to go as creating the "food art" this dad does, but you might get some inspiration for fun new ways to incorporate healthy foods into meals. If nothing else, the pictures are fun to look at!
If you have experience trying to feed a picky eater, you'll get a kick out of this account. Parents share pictures of the food their kids have deemed inedible and include the reason why their kid couldn't eat it. You're sure to empathize with parents whose kids can't eat a sandwich because of the way it is cut, or touch their shells and cheese because "shells belong in the ocean."
Occupational therapist Priscila Yu runs this account which promises "Inspiring simple Baby to Toddler activities based on developmental principles." And it delivers on that promise. A treasure trove of videos and photo sets are available for you and your kiddos to try.
If you have toddlers find yourself looking for a way to keep their little hands busy, this colorful account is for you. Run by a mom of three, this is a great Instagram account for parents to follow for sensory activities, crafts, and early learning games.
8. @candokiddo
An occupational therapist, self-proclaimed baby and toddler expert, and mom runs this account. Along with photos of everyday life as a parent, the account features video archives with helpful information on developmental milestones, scheduling, breastfeeding, walking, and much more.
9. @thedadlab
This account chronicles the life of a dad and his two sons. Not only is it full of charming pictures of father-son outings and daily life, but it also has a large collection of videos. Tutorials for activities that will entertain and enrich as well as helpful parenting tips will entertain both you and your kids.
10. @candidchildhood
This account is made up of beautiful images of kids and parents that capture the moments of joy and magic that can happen amidst the chaos of childhood. We could all use a little idyllic refuge to escape to for a few minutes, and @candidichildhood delivers such a place.
The bio on this Instagram account reads, "We believe real life is enough. Join us as we photograph families using the documentary approach." The documentary approach means no posing to take 100 pictures so you can pick out the perfect one to post. Families submit posts that capture moments in their life as they are happening. The photos are a glimpse into the reality of family life and are all the more beautiful for their lack of staging.
12. @hannahcarpenter
This Arkansas mom documents her family's daily life. The pictures are swoon-worthy, but Carpenter keeps it real in the captions. She's not shy about sharing struggles or revealing how much work it takes to get that perfect picture to post.
—
At HealthPark Pediatrics, we know that parenting involves a lot more than what people see on social media. That's why we're here to be partners in caring for your child. We pride ourselves on providing compassionate and comprehensive medical care to the families of the Triangle area. To make an appointment call (919) 896-7066.