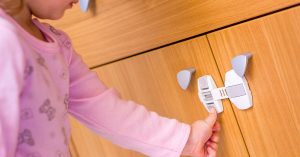 Before you bring your baby home from the hospital, you need to make sure that home is a safe place for them. Some baby proofing should be done immediately, but some things can be put off until later when crawling and walking are imminent. The more you get done before, the less you'll have to worry about later. And let's be honest, you're not going to have more time and energy once your baby arrives. If you're not sure where to start, here are 15 tips for how to babyproof your home:
1. Prepare the Nursery
This one may seem like a no-brainer, but it's worth mentioning for a couple of reasons. You should have this done as far in advance of your due date as possible and not be put off until the last minute. It is recommended that rooms be painted at least eight weeks before the baby spends time in them. There are other guidelines for crib safety and other concerns, here.
2. Install Safety Devices
One starting place for baby proofing your home can be to install safety devices. You may want to consider a home security system that includes smoke and carbon monoxide detectors along with a burglar alarm. But, there are other ways to protect your family if a full home security system isn't appealing or attainable.
At a minimum, you should have the following items in your home. But, don't just purchase these things and think that's enough. Take the time to ensure proper installation and learn how to use them so you are prepared in the event of an emergency. You should also test them as suggested by manufacturers and replace any batteries if needed.
Fire extinguishers
Smoke detectors on every level of your home and in hallways outside bedrooms
A UL-Listed carbon monoxide detector on each story – this is mostly important if you use gas or oil appliances or have an attached garage
First aid kit – not so much of an installation, but you should have it ready and stocked at all times and keep it in the same easily accessible place at all times
3. Make Dangerous Items Inaccessible
Another important thing to make sure you do before you have a mobile baby in the house is to remove certain items and substances from places that may be easily accessed or in reach of the child. The American Academy of Pediatrics has a great website for parents (healthychildren.org) including what to remove or store in a secure place, like a locked cabinet. Some of these items include:
All-purpose, kitchen, and bathroom cleaners
Bleach
Detergent (dishwashing & clothing)
Nail polish remover
Cosmetics
Perfume
Mouthwash
All medication (over the counter and prescription)
Alcoholic beverages
Items from the garage or basement like weed killer, fertilizer, insecticides, gasoline, antifreeze, kerosene, or pool chemicals
House plants that may have toxic or poisonous properties
Pet supplies
4. Put Firearms in a Locked Safe
It should go without saying, but if you have firearms in the home, keep them away from babies and children. Whether you have handguns, hunting rifles, or both, they should be locked in secure gun safes. All guns in your home should be locked and unloaded, with ammunition locked separately. Make sure children and teens can't access the keys or combinations to lock boxes or gun safes. And remember not to keep loaded, unlocked guns in the car, either.
5. Secure Furniture and Fixtures
The furniture in your home, especially pieces that will be used frequently by the baby or child, should be checked to ensure safety. Make sure things are correctly put together, mattresses fit in cribs and beds safely, and any paint or coating on the furniture is safe.
Any furniture that could possibly be pulled down on top of a child should be anchored to the wall. Also, make sure any wall hangings, picture frames, art, or shelving is secure so they won't fall down if the wall is hit by something like a speeding toddler.
6. Eliminate Choking Hazards
Make sure you keep small objects that children can choke on out of their reach. Babies and small children will put anything in their mouths, so if it's small enough to swallow and isn't food you've given them, then store it somewhere they can't get to it. This includes leaving things like buttons, beads, jewelry and coins lying within reach. If an item can fit through an empty toilet paper or paper towel tube, it is a potential choking hazard.
7. Store Valuables and Breakables
Not only will removing breakable and valuable items keep your child safe from shattered glass or porcelain, it will also prevent you from losing a family heirloom or something else important to you. You might be sad that they're not on display, but take comfort in the fact that they're safe and you can pull them back out when the kids are older. Also, make sure that china, glassware, and other dishes are stored in high cabinets in the kitchen, or a locked china cabinet.
8. Restrict Access to the Stairs
Even when a child is steady on their feet, you don't want them to have free access to the stairs at all times. It's easy for kids (and sometimes adults) to stumble when coming down or going up. Put gates at the top and bottom of stairways. And if you have an attic or basement stairwell, make sure babies and small children do not have access to them.
9. Block Electrical Outlets and Secure Cords and Wires
Make sure all open electrical outlets have safety plugs if they are not covered by furniture. Keep the floor as clear of electrical cords and wires as possible. There will inevitably be a cord that you need somewhere that might be accessible to the baby, but there are products and methods to organize, conceal, and secure cords to keep children from interfering with them.
Also, you should always unplug small appliances when you're not using them and keep them out of reach. These items include hot hair tools, irons, griddles, hot plates, and others.
9. Door Latches and Locks
Ensure that all doors in the house close and latch properly. If they don't, repair them or purchase latches that can prevent children from opening them. Your house will undoubtedly have lots of areas that are not dangerous to your child, but sometimes limiting access to certain areas can be helpful when trying to contain them, especially once they get the hang of crawling and walking and gain some speed.
10. Lock Drawers Cabinets and Trash Cans
Make sure your drawers and cabinets all have childproof latches on them, especially if they contain any of the hazardous items mentioned above. Get trash cans with lockable lids or add a locking latch to an existing lidded can.
11. Cover Sharp Edges
Cover sharp corners with safety padding or bumpers. It's almost a guarantee that toddlers and even older kids will bump into things and tumble sometimes. Covering dangerous corners that can cause damage when hit can prevent more serious injuries when these accidents happen.
12. Get Covers for Knobs and Dials
When your child is tall enough to reach certain knobs and dials in the house, they will definitely want to try and turn them. Doorknob covers are helpful to keep kids out of places they shouldn't be and things like stove knob covers can prevent serious accidents and injuries.
13. Watch Out for Windows
Windows should have secure latches or locking mechanisms to prevent children from opening them. If possible, screens should also be installed. You may want to install sensors if you're concerned about older children who have figured out how to get into even the most child-proofed places.
It's also important to make sure your window coverings are safe. Any curtains, blinds, or shades that have cords used to open and close them can be dangerous. You can either replace them with a cordless alternative, get safety tassels, or cord stays to keep them out of reach.
14. Check Out the Walls and Trim
Remove any nails or other hardware that might be protruding from the wall or baseboards. Remove or seal flaking paint. If your home was built prior to 1978 and you do not know if the original paint has been replaced or covered, this is especially important as it may contain lead and is harmful when ingested.
15. Don't Forget the Bathroom
The bathtub can be a place where you and your child have some fun playtime. However, don't forget that there are important precautions to take to ensure their safety. Put down a non-slip mat, strips, or dots in the bathtub and non-skid mats on the floor to prevent wet feet from slipping. Cover the faucet with a soft cover meant for that use. Turn down your water heater's temperature to below 120 degrees Fahrenheit to avoid burning or scalding them with water. An accurate and reliable water thermometer is also important and many are available. Also, never under any circumstances leave a baby unattended in the tub as drowning can occur in as little as an inch of water.
Contact HealthPark Pediatrics
At HealthPark Pediatrics we are committed to providing children of the Raleigh with comprehensive healthcare based on the latest expertise from the American Academy of Pediatrics. If you have questions about how to best protect your child from household dangers, call us at 919-896-7066. You can also request an appointment online.