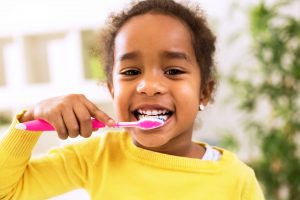 February is recognized as Children's Dental Health Month. Good oral hygiene and dental health habits are formed early in a child's life. Make brushing teeth together a fun activity and help your child understand the importance of keeping clean teeth. We're highlighting the importance of toothbrushing, good oral care and other tips for keeping a healthy smile.
Toothbrushing
Toothbrushing should start as soon as your child cuts their first tooth. Until they are old enough to responsibly brush their own teeth (around 6-8 years old), assist your child in brushing their teeth to make sure they are reaching each tooth. They should be brushing their teeth twice a day, once in the morning and always before bedtime.
When those first baby teeth come in, opt for a small, infant-sized, soft-bristled toothbrush or use a washcloth to clean their teeth gently. Once more teeth come in, assist your child in brushing with a small, soft-bristled toothbrush until they are old enough to brush on their own. Whether you find a kids' toothbrush with a built-in timer, you place a timer in the bathroom or you sing songs to keep time, brush for 2 minutes each time. Once your child has two or more teeth that are touching, introduce flossing into the daily routine as well.
Toothpaste
Always choose a fluoride toothpaste for your child to brush with. According to Johns Hopkins All Children's Hospital, "Fluoride helps because, when teeth are growing, it mixes with tooth enamel — that hard coating on your teeth. That prevents tooth decay, or cavities. But fluoride can help even after your teeth are formed. It works with saliva to protect tooth enamel from plaque and sugars." 
If your child only has a few baby teeth, start off with a very small amount of toothpaste, comparable to the size of a grain of rice. When more teeth start coming in around the age of 2, up it to a pea-sized amount of toothpaste.
It is also important to explain that toothpaste is just for cleaning teeth and should not be swallowed. Once they are older, keep a cup in the bathroom and remind them to rinse and spit into the sink after they finish brushing their teeth.
Dental Checkups
Your child's pediatrician will check their teeth and gums at their annual wellness visit to make sure they look healthy. We recommend making an appointment for your child to see a dentist once their first teeth start to come in or no later than their first birthday.
Make An Appointment
At HealthPark Pediatrics we are dedicated to providing the most current, compassionate, and comprehensive medical care. Comprehensive medical care includes your child's oral health. Give our office a call at (919) 896-7066 to talk to a team member about making an appointment.
At HealthPark Pediatrics, the health and safety of our staff and patients is our top concern. We are taking steps to ensure that you and your child will be safe while visiting our office. This includes using a separate entrance for sick visits, limiting the number of staff and physicians, observing social distancing guidelines, and offering telemedicine visits.