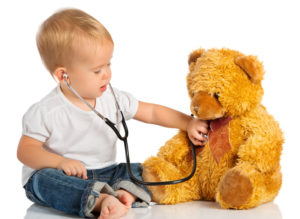 Your pediatrician will be your partner and advisor when caring for your child. For your child's well-being, it's important to build a relationship with a pediatrician founded on trust and mutual respect. You should feel comfortable to ask questions or voice concerns. If you're pregnant, recently moved to a new area, or are unhappy with your current provider, here are some helpful tips for choosing a pediatrician:
1. Ask for Recommendations

An internet search may return pages of results for a pediatrician in your area. Save yourself some time by asking family, friends and colleagues for recommendations. They'll be able to offer valuable insight based on personal experience that you won't find on a physician's website.
2. Consider Your Needs

To help narrow your list, consider the location of the office. Is it convenient to your home or work? What about it's proximity to your child's school or daycare? Sick visits will pop up unexpectedly, so you make it is a reasonable commute. Also, look into which hospitals your candidates are affiliated with; you'll want one that's both convenient and reputable. You'll also want to pay close attention to office hours, whether after-hours care is available.
3. Check with your Health Insurance Provider

It may seem obvious to confirm that a pediatrician accepts your health insurance plan. However, you should also check with your insurance provider to find out whether a pediatrician is considered in-network or out-of-network. An out-of-network provider can significantly affect the out-of-pocket expenses that you are responsible for.
HealthPark Pediatrics is considered "in-network" for many insurance plans offered in the Raleigh, NC area. Please keep in mind that there are individual plans through some carriers that do not include HealthPark Pediatrics as an "in-network." To make sure your visit will be covered, please contact your insurance carrier to make sure HealthPark Pediatrics is one of the pediatricians in Raleigh covered by your plan.
4. Verify Credentials and Experience

Pediatricians specialize in the care of infants, children and adolescents. The American Board of Pediatrics requires that pediatricians graduate from an approved medical school and complete a three-year pediatric residency training program. After completing their residency, many pediatricians become board-certified by the American Board of Pediatrics. Also, consider the pediatricians years of experience as well as range. Have they only worked in a private practice or do they have broadened knowledge from working in other environments such as a group practice, urgent care, hospital or emergency department?
5. Schedule a Get-to-Know-You Visit

Many pediatricians offer free prenatal visit or tours for any prospective new patients. These visits are a great opportunity to meet the provider and ask questions about their style, philosophy of care and office policies for topics such as immunization. It is also an opportunity to evaluate the office experience as a whole before making a commitment, including ease of scheduling appointments and friendliness and professionalism of office staff.
About HealthPark Pediatrics

Together, HealthPark Pediatrics' board-certified physicians have more than 100 years of combined experience providing high-quality, comprehensive pediatric care to families in Raleigh and the greater Triangle area. If you are interested in becoming a patient, we invite you to visit our office and meet our providers. Call 919-896-7066 to schedule an appointment.