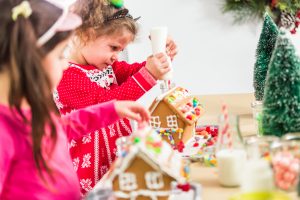 It's the most wonderful time of the year, even in the midst of a pandemic. There are so many holiday traditions that children look forward to every year. While we might not be able to celebrate the holidays in the most traditional sense, there are fun ways to keep the holiday spirit alive for your children! Here are 5 ways to safely celebrate the holidays with kids:
1. Dine Together Digitally
Much of Thanksgiving and the holiday season revolve around sharing the dinner table with loved ones who have gathered from near and far. Since most families will be hosting much smaller holiday dinners and those who live far away might not be able to join, try dining together digitally.
Set your computer on the dining table and launch Zoom, Skype or Facetime to share a special meal with your loved ones on the other end. Make dinner extra special by sharing family recipes before the meal and serving them together virtually.
2. Get in the Kitchen with the Kids
They say the kitchen is the heart of the home, which is especially true during the holidays. Pull out your favorite family recipes and find a few new recipes to ring in the holiday season. Let your children join you in meal planning, preparation and serving. Give them safe and fun tasks like mashing potatoes, stirring and measuring ingredients.
Set up a decoration station at the kitchen table and let the kids build gingerbread houses, decorate gingerbread men and women, and ice Christmas cookies. Encourage them to have fun with icing colors and decorations!
3. Drive Through Light Displays
The magic of holiday light shows can be enjoyed safely from your family's car this year! The Raleigh area has a few drive-through holiday light attractions. Fill up to-go mugs with hot chocolate and pack cookies to be enjoyed while holiday music plays and you and your family drive through some spectacular light displays!
4. Decorate the House Together
No matter how your family celebrates the holiday season, decking the halls is a sure way to get everyone excited! Since we will all be spending more time at home this season, pull out all the stops to make things extra festive and merry.
Decorate the Christmas tree together while watching the family's favorite holiday movie. Talk about the special ornaments and encourage your kids to pick a place on the tree for their favorite ornaments. You might even consider placing a small tree in your children's rooms and letting them decorate. Add string lights and garland around the house for an extra special touch.
If you're decorating for Hanukkah, you can buy or make blue and white garland out of faux flowers, pom poms and string. Drape this around the house to give it a festive feel. Wrap white and blue string lights around door frames and fireplace mantles to give things a little sparkle. Make the menorah the centerpiece and let the children participate in the lighting of each candle.
5. Watch Your Favorite Holiday Movies and Listen to Holiday Music
Let the holiday movie marathons begin! We really like this list of more than 40 kid-friendly holiday movies that the whole family can enjoy. Get cozy by the fire, pour some apple cider or hot chocolate, and snack on some holiday treats. 
Whether you opt for instrumental holiday music or decide to go with the ultimate holiday playlist, playing holiday music is a guaranteed way to get everyone in the holiday spirit!
Make An Appointment
We know how busy the holiday season can be, so there's no better time to schedule your child's checkup. Give our office a call at (919) 896-7066 to talk to a team member about making an appointment.
At HealthPark Pediatrics, the health and safety of our staff and patients is our top concern. We are taking steps to ensure that you and your child will be safe while visiting our office. This includes using a separate entrance for sick visits, limiting the number of staff and physicians, observing social distancing guidelines, and offering telemedicine visits.