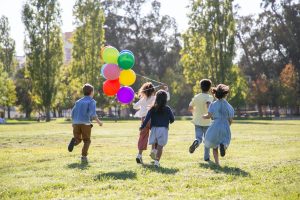 It is usually pretty easy to pick up on when your child is feeling great about themselves or if they are feeling down or discouraged. Your child's self-esteem plays a big role in character development. Their emotional, social and behavioral health correlates directly with the way they handle the pressure and challenges that life presents. Helping your child build a healthy and positive self-esteem is one of the best things you can do for their mental health.
Children who have healthy self-esteem feel confident and believe in themselves. They feel like they belong and they feel good about themselves. Children with positive self-esteem believe good things about themselves and feel proud when they accomplish something.
Your child's self-esteem is a fundamental part of their development. Here are 6 ways to help build your child's self-esteem.
Practicing independence.
Work with your child to teach them something new and develop their independence, helping to boost their self-esteem. Encourage them to pick out their own outfits in the morning, brush their hair and pour their own drinks (with your help if they are little ones). Allowing your child to practice their independence in everyday tasks can play a big role in their confidence.
Help your child learn new things.
No matter your child's age, there are always new skills to learn and practice. Seemingly small learned tasks can make a difference! Help your child learn how to read their books, ride their bike or learn a new craft. Share in their excitement when they succeed and encourage them to try again if they don't succeed at first.
Focus on their strengths.
If your child really enjoys and excels at doing something in particular, encourage them to continue building those skills. Always play up your child's strengths to build their self-esteem and confidence.
Helping others.
Encourage your child to help others, even if someone hasn't asked for help yet. When they see the difference they make in someone's life when they lend a helping hand, they will feel important, helping to build their own self-esteem. Whether it is helping out around the house, assisting their teacher or helping another kid on their sports team, being the helper works to build character.
Praise your child's effort.
Praise shouldn't be handed out solely based on results, like making a good grade or scoring a goal. Instead, show your child praise when they work hard for something or when they show progress. If they don't make an A on a test but you know they tried their hardest, show them praise. If they missed a goal, but they played well with their teammates, show them praise. When children are praised for working hard, they are more likely to continue this practice, boosting their self-esteem.
Show them love and support.
Most importantly, show your child that you support them and love them unconditionally. Let your child know that you love and support them even if they make a bad grade or they make a mistake. You don't love them for their good grades or their perfect piano performance, you love them for who they are. When children understand that concept, they will feel comfortable with who they are and what they do, all while improving their self-esteem.
For More Information
As a parent, we know that your child's mental health and development is a top priority. At HealthPark Pediatrics, we are here to be a resource. Parents in the Raleigh area can call us at (919) 896-7066 for assistance.
At HealthPark Pediatrics, the health and safety of our staff and patients is our top concern. We are taking steps to ensure that you and your child will be safe while visiting our office. This includes using a separate entrance for sick visits, limiting the number of staff and physicians, observing social distancing guidelines, and offering telemedicine visits. Request an appointment online.