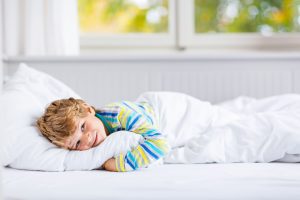 While the timing is different for every family, toddlers can usually start making the transition from the crib to their first big kid bed between the ages of 18 months and 3 years. We recommend keeping your little one in a crib as long as you can, but when they start expressing their desire to graduate to a big kid bed, climbing the crib rails or if they are potty trained, you can start making the transition.
Choosing A Big Kid Bed
Big kid beds can take a few different forms. Some toddler beds are low to the ground and are designed to look like castles, airplanes, racecars or camping tents, which can be fun for little ones who might be apprehensive about making the switch. Other toddler beds are just twin beds with safety rails on each side. Or if your child's crib converts to a toddler bed, then there's no need to purchase a new bed for this transition. There are few things we like to check off the list when suggesting toddler beds:
Low to the ground: Finding a bed that is low to the ground makes it easier for your toddler to safely get in and out of the bed by themselves.
Simple design: Keep things simple when it comes to picking out a bed. If it has a headboard and footboard, make sure there are no cutouts or ornamentation that could cause an injury.
Sturdy: Make sure it can withstand a tough toddler's treatment!
Rails: The bed should have rails or raised sides so that there is no risk of the toddler rolling out during their sleep. If the bed doesn't have rails built-in, rails can be purchased and added to the bed.
Made-to-fit mattress: To guarantee your child's mattress is a snug fit in the bed, it's easiest to purchase the mattress and bed together, or you can purchase a toddler bed that is meant to be used with a standard crib mattress.
Certified: Be on the lookout for a sticker from the Juvenile Products Manufacturers Association (JPMA) on the toddler-sized bed or rails that you purchase.
Safety
Once you find that perfect big kid bed for your toddler, there are steps you can take to set up their sleeping space safely.
Find the perfect spot in the room, away from windows, blinds, curtains, floor registers, light switches, electrical sockets and floor lamps.
Position the bed's headboard right against the wall and leave plenty of space between both sides of the bed, or install railings on both sides, to limit the chances of your child rolling and getting stuck between the bed and the wall.
Place plush pillows or a soft rug on the floor right next to the bed to cushion a fall.
Ensure all screws and bed frame hardware are fit tightly. Check these regularly.
Switching to Big Kid Beds
Next month on the blog, we'll be talking more about making the switch from the crib to a toddler bed. We'll be sharing lots of tips and advice that we hope makes the transition a little easier on you and your toddler!
For More Information
As a parent, we know that switching to a big kid bed can seem like a daunting milestone. At HealthPark Pediatrics, we are here to be a resource. If you have questions or concerns about transitioning your child from the crib, parents in the Raleigh area can call us at (919) 896-7066 for assistance.
At HealthPark Pediatrics, the health and safety of our staff and patients is our top concern. We are taking steps to ensure that you and your child will be safe while visiting our office. This includes using a separate entrance for sick visits, limiting the number of staff and physicians, observing social distancing guidelines, and offering telemedicine visits. Request an appointment online.