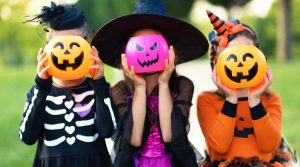 The fall season has officially arrived, which means the first stop on the holiday stretch is here: Halloween. Halloween is a special time for families, especially for the little ones! Each year the classic Halloween costumes remain, but many kids find inspiration from their current favorite characters or personalities.
The most popular children's 2022 Halloween costumes come from movies, TV shows, and more. If you're still searching for a new idea, keep reading for our prediction of the most popular costumes based on 2022 trends.
Top Children's 2022 Halloween Costumes
Being whatever or whomever you'd like to be for Halloween opens the door to many possibilities. Looking back at the past year, you can pull inspiration from new movie releases and their popular characters. We have some ideas for you if you're looking for individual costumes, group outfits, or last-minute ideas.
Minions
Ever since Despicable Me premiered in 2010, and The Minions got their own feature film in 2015, a minion Halloween costume has grown in popularity. However, with the release of "Minions: The Rise of Gru" this past summer, we expect to see a spike in minions trick-or-treating in your neighborhood.
Luckily, it's a simple costume to put together if you're still searching for an outfit. All you'll need is a bright yellow t-shirt, denim overalls (or jeans and suspenders), a yellow beanie, and black goggles or glasses. Also, it's the perfect costume if you need a group idea. As parents, you or your partner can dress up as Gru while the children follow in minion outfits.
Top Gun
Top Gun costumes have also been popular since its original release in 1986. This year we expect to see a rise in popularity, seeing how "Top Gun: Maverick" was a hit for both children and adults. The movie was rated PG-13, so there's a chance your toddler or pre-teen children have not watched it yet. However, that doesn't mean they can't sport some aviator sunglasses and an olive green flight suit.
If you have a newborn and are looking for a costume to commemorate the year they were born, Top Gun outfits are sure to be a crowd-pleaser. Adult options are also available if you want to match your child.
Little Mermaid
Disney Princess costumes are a classic Halloween staple for young children. With the anticipation of the new live-action Little Mermaid movie releasing in 2023, we expect to see many Ariels in our midst. There are many Little Mermaid costumes available online. The iconic red hair paired with the mermaid tale will leave no confusion as to who they are dressing up as.
There are many other beloved characters from The Little Mermaid if you need costume ideas for yourself, a sibling, or your child's friend. Once the movie is released next year, it's possible dressing up as Ariel will grow to be even more common. Get ahead of the trend with your children's 2022 Halloween costume.
Professional Athlete
If your child is a sports lover, dressing up as their favorite professional athlete is the perfect last-minute costume. Grab whatever jersey they own and some accessories to match the sport, and they're ready to get out the door!
Being located in Raleigh, NC, we're home to many Carolina Panthers, Carolina Hurricanes, and Charlotte Hornets fans. Dressing up as an athlete is a fun way for children to connect with people around them. It may even earn them the king-sized candy bar if they knock on a fellow sports fan's door.
The Sanderson Sisters
This costume is a no-brainer if you're the parents to three daughters or your daughter needs a costume for herself and two friends. The long-awaited sequel to Hocus Pocus was recently released at the start of October. The unique style of these sisters puts a twist on dressing up as a classic witch. Dressing up as these characters will pull at the heartstrings of original Hocus Pocus lovers and spark a newfound appreciation in the younger generations.
Keep Your Child Safe and Healthy this Halloween
Now that you have some costume ideas, it's important to prioritize a safe and healthy Halloween for your children. This is our guide to trick-or-treating so you can enjoy all the treats without any unwanted tricks. We at HealthPark Pediatrics wish you and your family a happy and healthy Halloween! It's not uncommon for children to feel under the weather after a holiday. Be sure to contact us for any additional questions or concerns.