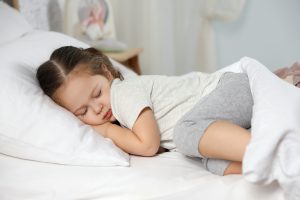 Last month on the HealthPark Pediatrics blog we talked all about big kid beds. We discussed the right timing, choosing a big kid bed, and some safety basics surrounding a toddler's new bed. Now we're tackling the big transition! We're sharing tips on making the transition from a crib to a bed and how you and your little one can ease into the change together. 
Transitioning
Here are a few tips and steps to take when transitioning your toddler from a crib to a bed:
Timing: If lots of change is on the horizon for your toddler, like a new sibling, starting school, starting potty training or moving rooms or houses, give it a little time before introducing the new bed. The goal is to make the transition exciting and not something to be feared.
Share the excitement: Much like potty training, it is important to share the excitement with your toddler about this big move! There are lots of great children's books about transitioning from the crib to a big kid bed that your child can relate to. Try reading these in the days leading up to the switch.
Ease into change: If your child is having a hard time with change, it might be easiest to start with converting their crib into a toddler bed by removing the front panel. This might make it a little easier to ease into the transition.
Personalize it: To help your toddler get excited about the transition, consider letting them help pick out a few things that would personalize their bed. Maybe they can pick out a fun pattern or their favorite color for their new sheets, a kid-friendly comforter, or a new stuffed animal that gets to sleep on their new big kid bed with them. 
Childproofing: Before the first big night in their new bed, run through a full list of childproofing safety measures around their room and the surrounding areas. Since they will be able to get out to the bed much easier, be sure that secure gates are blocking any stairs, windows are locked, fire alarms and carbon monoxide detectors have been tested, and any materials that might be dangerous if consumed are locked away. 
Keep the routine: Sticking to your child's established bedtime routine is important when making this switch. Since this is a big change for them, try to keep everything else the same. If that means, bathtime, reading and going to bed worked when they were in a crib, keep it the same when they move to a big kid bed. 
Praise: Just like the potty training process, praising your child for working on great bedtime habits is important! Consider rewarding them with a sticker on a chart if they stay in bed, versus getting out of bed after being tucked in for the night. If they have a week of consecutive stickers, maybe they can get a special treat to celebrate. They should love their newfound independence and big kid bed! 
For More Information
Making the switch from the crib to a toddler bed might seem like an uphill battle, but our team here at HealthPark Pediatrics is here to be a resource. If you have questions or concerns about transitioning your child from the crib, parents in the Raleigh area can call us at (919) 896-7066 for assistance.
At HealthPark Pediatrics, the health and safety of our staff and patients is our top concern. We are taking steps to ensure that you and your child will be safe while visiting our office. This includes using a separate entrance for sick visits, limiting the number of staff and physicians, observing social distancing guidelines, and offering telemedicine visits. Request an appointment online.